*"The means that lead to true philosophic knowledge are three in particular: experience, geometry, and the power of reason. By philosophy we here mean a knowledge of the mechanism of our world, or whatever in the world is within the domaine of geometry, or whatever can be revealed by experience with the help of geometry and reason."
*"The second means leading to wisdom", where the first one is experience, "by which the mysteries of invisible nature may be unlocked or revealed, is geometry and rational philosophy, by which we may estimate what comes by experience, analyse, and digest it, reduce it to laws, rules and analogies, and thus arrive at a third or forth deduction which was previously unknown…. Geometry, therefore, accompanies the world from its origin or its first boundary to the last."
In his teachings Emanuel Swedenborg describes the Grand Man as the main subject of angelic understanding, and yet a mystery to a men. A mystery which he is trying to reveal in the multiple and very detailed passages of his writings. By studying those passages we can also understand Grand Human as a way of reasoning applicable  to any kind of human logic in spiritual or natural activity.
According Swedenborg we can understand the divine creative construction in The Grand Human through the correspondence to our natural human body. The Grand Human is nothing else than the original divine MATRIX, primely given by the Lord to humanity as a human natural body. That is in order for humans to do all they do through their lives on the natural level by the Pattern of Divine. Because Grand Human is a divine pattern on which all the heavens and it's societies are built, says Swedenborg, we, humans have to see our body construction as such one of divine origin. A human does not create his body by himself, our bodies are divine, because they are created by our Lord as His own reflection.

What we, humans, create ourselves are our relations, our internal and external relations, our human organisations, networks and multiple multicultural societies. And why should not the human societies be constructed according the same model of Grand Human? It can't be so impossible! It is quite possible because we had been given our body as a divine matrix. 

So, Swedenborg means that deeper understanding of our human body and it's multiple functions supplies us humans with such an original matrix.  If we act upon this Matrix our actions and their outcome  will be automatically supported by the Lord, and thereby will be successful. In my graphical presentation of the Grand Human Model, Swedenborg's Grand Human turns to a visual blueprint of any possible kind of a development process. That process, performed  according the divine matrix, will bring higher meaning, logic and power to it's accomplishment. That is why my suggestion is to perform all human activities in correspondence with the Grand Human Model.
The picture below is just a sample of how one can use the Grand Human Model for organization re-struction .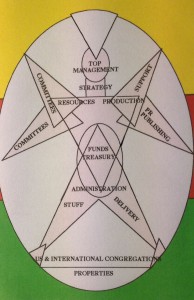 In order to create this model I utilized means of geometry. Geometry is an abstract science and it is also a science of measurements and proportions performed on the natural level. The measurements and proportions one can also correspond with psychological level of human activities. Geometry allows to rise up from the Earth and overview our activities from above. What will be the consequence of our doings? What will be the results? Good or bad?As corresponded to human bodily functions those consequences will stand out. To picture all the body functions by means of geometry is a simple task. To understand such a geometric picture is not difficult, though one must have a key. That is what I am doing here – trying to give you a key. That key will open all possible and impossible doors to successful outcome without an eventual harmful effect. That is because we will follow the divine plan which is natural and therefore never harmful.

That divine key consists of solemnly 3 basic geometrical figures: the circle, the triangle and the square. The circle mediates for the given task most suitable Context, the triangle – a directed Effort, the square – an Impact. That is if you define it by substantives. If we choose to define it by the verbs, this will be: the circle – to inspire/ to organise, the triangle – to execute/manage, the square – to implement. 

The body of Grand Human Model pictured by using those 3 basic elements will be a blueprint, a map, of how one shall proceed in order to create whatever one strives to achieve. Thus include  the matter's visual structure exposing it's vital functions. Thus blue print will guid either an individual or an organisation to a successful outcome of the matter in hand.

copyright Tanja Perskaja / Stockholm Sweden