All the natural matters, that we understand as practical, arrange themselves accordingly and correspondingly to the original Divine  geometric patterns. Therefore, if we would become respectfully conscious of those living patterns, while involved in practical activities, those activities will arrange themselves as well in accordance with the original set of the invisible but executive patterns. Knowing the patterns and consciously following them would lead down a path of a personal success and mutual harmony with environment
*The question is: How do you do in order to become aware of the divine geometrical patterns in your everyday life?
*The answer is: You need a certain tool which will be capable to connect your mind to Divine Patterns. The patterns will express themselves in visual geometrical language which is actually the common denominator between the both: Natural and Divine.
On this page we present such a translator-tools between the natural and the divine. We created two different card-games. One of them should be used for personal matters and the second one you can use in your work. Especially if you are working in a project. The first one calls the RAINBOW ROUND CARDS, the second one is the PROJECT LEADER CARD-GAME
RAINBOW ROUND CARDS  by Tanja Pérskaja
Price: $45/order via this site or on www.adlibris.com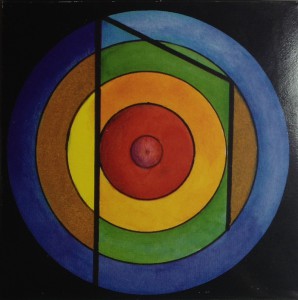 The Rainbow Card Game is a tool for personal development. This esoteric game corresponds to the Greater Arcana Tarot and the Nordic Runes. It inform its user via 25 cards. Each round card rotates & each new position mediates a new message. Via the runic symbols and planetary scales, the front images emanate graphical information. Visual information is a primary one, while verbal is secondary. A new-born child uses its sight immediately, while it takes years to learn how to speak.
Please, take advantage of the cards' graphical message, before you read its verbal interpretation. Eventually you'll be able to read the card just by looking at it. The RCG is also a Cosmic game, because one & each card mediates the power of 1 or 2 planets. You can see every card-face as a sort of COMPASS that locates your unveiled potential, and shows your actual position in life. The game can help you to a goal oriented, successful navigation in great and small. Your card-game will be your advisor!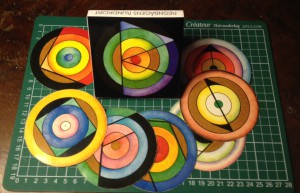 PROJECT LEADER CARD-GAME by T. Pérskaja Price $21 /order on this site or on www.adlibris.com

PLCG: Stimulator, Simulator & Problem-solver
Welcome to the Project Leader Card-game! The device consists of a pack of fourteen colorful diagrams with instructions how to read the cards, and how to operate for the most beneficial utilization while training your skills in a deeper understanding of the patterns of project activities. You can play solitary or in a team. Put questions forward, one at the time, and you will receive the answers. On every such request, PLCG can supply you with 17,472 various solutions. This covers a lot of ground! Every time you leave the game after using it, you'll become much more insightful than you'd been before. One by one choose different parts in a project-performance. Play while you learn – have fun!
The cards simulate geometry of a working space and human psyche. Teach yourself to interpret geometric figures via  correspondences to the project objectives and manpower involved.  PLCG can be your inspiration in real projects, when nothing else seams to help; a simulator of probable projects with didactic purpose; as a logic-training tool for an 'elemental' reasoning (to operate with units as parts of whole). With PLC as your every-day gear you can get a feedback on the events of the past, you can stay in control of your present leadership and you might even be able to predict the future of your projects & their impact on the  environment.  PLCG will help your project to stay on track!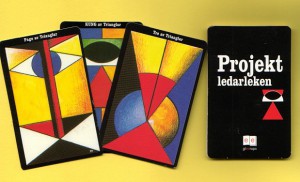 The games are available with instruction on Swedish or English
Published by Editions TPW-Tornet Sweden
PUT YOUR ORDER ON  www.adlibris.com if you are in Sweden
Rest of the world: send your comment on this site with your email address and name. We'll contact you shortly